New Teams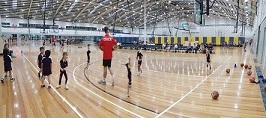 TRAINING OR COMPETITION
A term of basketball training is highly recommended to prepare children for competition. Register a Teams of up to 10 children to participate in weekly training sessions covering - individual basketball skills & practicing skills with group activities which are highly fun and engaging. Playball's experienced coaches conduct the 40 minute sessions.
New Year 1 Teams (2021) can registered for Term 1 2021 Training at MSAC / GESAC / AQUALINK with the links below.
Safety Protocols are in place for Covid-19.
TRAINING TEAMS - 2021 TERM-1
Bentleigh East GESAC Wednesday
Whitehorse AQUALINK Friday
Albert Park MSAC Friday
NEW COMPETING TEAMS - 2021 TERM-1/2
Bentleigh East GESAC Wednesdays Year 1-2
Bentleigh East GESAC /MSAC Fridays Year 3-4
Whitehorse AQUALINK & School Gyms Fridays Years 1-4
Albert Park MSAC / BAYSIDE Tuesdays Years 5-6
Albert Park MSAC / BAYSIDE Fridays Years 1-4