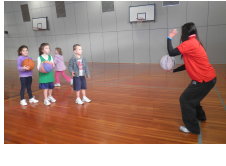 To enrol your child in a Term of Basketball training for Term 1 2022, please complete the player registration form, below.
Term 1 commences from Wed. 2 Feb 2022 @ GESAC or Friday 4 Feb @ MSAC, Albert Park & Aqualink, Box Hill. If you have a Team of Children for Training already, complete a Team Registration Form - PDF.
Training is for Year 1 or Year 2 children and conducted by Playball's experienced team of Coaches. Training Teams become beginner playing teams from Term 2.