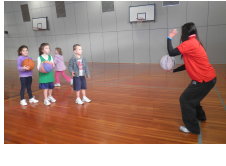 To enrol your child in a Term of Basketball training for Term 2 2023 Aussie Hoops at Aqualink Box Hill on Fridays or Playball Training at GESAC Bentleigh East Wednesdays please complete the player expression of Interest form, below.
Term 2 commences from WED 26/ FRI 28 April 2023 and runs for 8-weeks to Friday 16 June. If you have a Team of Children for Training already, complete a Team Registration Form - PDF.
Training is for Prep, Year 1 or 2 children and conducted by Playball's experienced team of Coaches. Training Teams become beginner playing teams from Term 3 or 4.