Playball News
03/11/2021 RETURN TO SPORT UPDATE
In line with the easing of restrictions, Basketball Victoria confirms that basketball can resume under the following COVIDsafe settings; Colour code of Basketball Victoria's COVIDsafe settings will reflect the activity allowed. GREEN (competition and training permissible). With these guidelines in place, Basketball Victoria is able to set the current Return to Sport Reactivation Level to GREEN-50 for indoor competition and training effective immediately. GREEN-50• Training and competition can resume with the minimum number of people required. School Stadiums remain at 3 Adults per Team attendance (schools maintain their own levels) . Multi-Scourt Stadiums - MSAC, GESAC, Aqualink & Sportlink - one Parent per Player allowed.
13/10/2021 RETURN TO SPORT UPDATE
While we look forward to a return to the court at some stage in November, Basketball Victoria will continue to work with VicSport, Sport and Recreation Victoria and other stakeholders as we move closer to a return date and hope to have clear guidance on how it will work for basketball participants, coaches, staff, venue management and attendees. It appears that the State Government is working towards a double dose vaccination policy for community sport and are now working towards how that will be implemented, but at this stage that is to be determined. We will continue to work with the Victorian Government and all related stakeholders to ensure the best outcome for Victorian basketball's return to competition as safely and quickly as possible. In the meantime, Basketball Victoria encourages all Victorians who are currently eligible to receive a vaccination to book an appointment and get vaccinated as soon as possible.
01/09/2021 RETURN TO SPORT UPDATE

Unfortunately, the current COVID restrictions and lockdown conditions will continue until 23 September or 70% of the Victorian population is vaccinated with at least one dose in accordance with today's announcement from the Victorian Government, on advice from the Department of Health. Basketball Victoria and affiliates continue to operate under the RED-0 guideline. 70% first dose in Victoria predicted to be reached by end September link

16/08/2021 RETURN TO SPORT UPDATE
The Victorian Government, has extended the lockdown restrictions for Greater Melbourne with these measures to remain in place until at least 11:59pm, Thursday 2 September. Basketball Victoria is operating under the RED-0 guidelines refer pages 9-10
05/08/2021 GAMES CANCELLED FRIDAY 6 to WEDNESDAY 11 AUGUST
Return to Sport Update
The Victorian Government, on advice from the Department of Health, has chosen to enact a snap lockdown for Victoria with these measures staying in effect for 7 days from Thursday 5 August at 8.00pm. In line with Victorian Government health directives, basketball across Victoria will be placed at the RED-0 REACTIVATION LEVEL as per the Basketball Victoria Return to Sport Guidelines. There will be no games for Basketball Victoria-managed leagues, there will be more details to follow in regard to resumption in the coming days.
30/07/21 CAPACITY LIMITS APPLY AT VENUES
At SCHOOL VENUES one-parent per player applies
CAPACITY LIMITS AT MSAC.
100 max per area. 3 PARENTS ONLY ALLOWED PER TEAM. -Scorer, Coach & Team Manager.
At MSAC, please confirm with your members - who the three Adults in your team will be entering the stadium.No entry to MSAC foyer area until max 5-minutes prior to your scheduled game time or when ushered in by MSAC Staff. – i.e. wait outside in the open.
Courts and foyer to be cleared of all teams prior to allowing the next group of teams to enter the MSAC building. So please exit MSAC immediately after your game.
Games at MSAC will be 16-minute halves.
12/07/2021 MSAC CONDITIONS OF ENTRY

EVERYONE, Parents and Player and Siblings (not children under 1 year old) MUST be QR-CODED in at Stadium Entry as well as for each space they enter.
Four Spaces at MSAC used by Playball:
Arena 1 (Show Courts): Space 1. Main Hall CRT 1-4: Space 2. Main Hall CRT 5-8: Space 3. Arena 5 (Multi-SPorts-Hall): Space 6.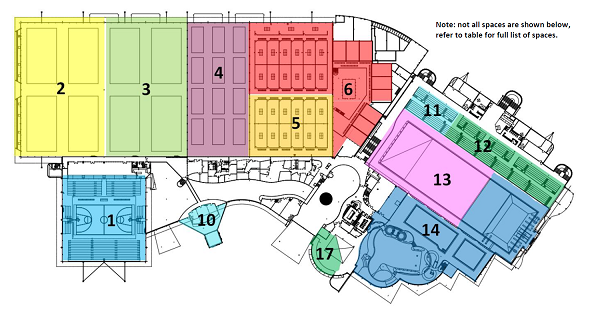 02/06/2021 VICTORIAN LOCKDOWN EXTENDED
The Victorian lockdown has been extended by one week and will lift at 11.59pm on Thursday June 10. Playball anticipates a return to Basketball on Friday 10th June.
01/06/2021 GAMES CANCELLED FRIDAY 4 JUNE
Return to Sport Update
Basketball Victoria, in consultation with our commissions, associations and league delegates, has decided to postpone or cancel a number of basketball related competitions and events in the best interest of public health and safety until Monday 7 June. We have proactively taken this step to ensure the community is aware of the upcoming schedule, can make alternative arrangements if required and to ensure athletes are allowed enough time to prepare and condition their bodies for any rescheduled games or events. These are not decisions we take lightly, but with the current situation unfolding in Victoria we have determined this course of action to be the safest and in the best interest of the basketball community.
Nick Honey Basketball Victoria, CEO
15/01/2021 MSAC: YR.5 BOYS PLAY WEDNESDAYS
Commencing Term 1 in the MSAC/Bayside competition, Year 5 Boys teams now play on Wednesdays at MSAC between 4:00 & 5:30PM (no longer Tuesday). Tuesdays is for Year 6's and Year 5 Girls only.
All Wednesday games are at MSAC.
Matches will remain 18-minute halves with clock stopping in the last minute of the game where score difference is 6 points or less.
Starts times will be 4:05 or 4:50pm.
Advantages of Wednesdays – 1 central location for all games, Wed's is for Year 4 & 5 Boys Teams, early times, keep Fridays free.
15/01/2021 MASKS INSIDE STADIUMS
From 11.59pm, Sunday 17 January 2021, face masks will no longer be mandatory in all public indoor settings. You should always carry a face mask with you when you leave home unless you have a lawful reason not to.
08/01/2021 TERM 1/2 SEASON DATES
Playball Term 1/2 Season commences from Tuesday 2 February. Term.1: 2 Feb-31 Mar. Term.2 20 Apr -18 Jun
Current Status Covid-safe see page 8 of Return to Sport for details.
27/10/2020 INDOOR BASKETBALL FOR NON-CONTACT TRAINING
As per the Victorian Premiers announcement on Monday 26 October, From 11:59pm Sunday 8 November, Vicoria wide for 18 year olds and under
ORANGE-20 applies – Indoor (non-contact) training only
ORANGE-20 = 10 players maximum per team / 20 players maximum per court space
Note: 1. Coaches, Officials, Team Managers and Scorers are in addition to the 20 players per court
2. Each child is limited to one parent, guardian or carer only, where the child requires parental supervision.
Playball is checking with MSAC, GESAC & Aqualink their ability to accomodate Playball for current Training Teams for 3 weeks of training on Fridays 13, 20, 27 Nov (Wed's for GESAC) .
19/10/2020 INDOOR BASKETBALL TERM 1-2021
As per the Victorian Premiers announcement on Sunday 18 October, as of Monday 2 November – outdoor contact sport for under 18-year-olds can recommence.
Indoor Basketball for under 18's can resume, at the earliest from step four on November 23. As such, Playball will resume Indoor competition & training from the start of Term 1 2021.
15/10/2020 SURVEY RESULTS FOR BASKETBALL TERM 1-2021
Team Managers of Year 1 Training Teams were asked via an online survey in late September, what they would prefer for Term 1 2021, having received only 5 or 6 weeks of Playball Training. The offering for Term 1 2021 will reflect the options requested based on viable team numbers. (click to view)
MSAC GESAC AQUALINK
14/09/2020 Basketball Update (emailed 12/9/20)
BASKETBALL RETURN
A Basketball Victoria (BV) zoom meeting was held on Wednesday 9 September to discuss the Victorian State Government's Road-to-Recovery steps. Accordingly, indoor Basketball for juniors can resume, at the earliest from step four on November 23. BV is in consultation with the State Government with the aim for junior basketball to resume from step three, 26 October.
• If the return to basketball remains from 23 November, Playball will recommence for Term 1 2021.
• If return is moved forward to step three from 26 October, Playball will commence for Term 4 from Tuesday 27 October subject to court availability and look to finish by Friday 11 December. (will be a Term-4/ Term-1-2021 season)

REGISTERING YOUR TEAM FOR TERM 4 OR TERM 1
Once the situation is clear, your team will be invited to re-register for either Term 4-2020 or for Term 1-2021 via the Playball team portal. Current team divisions can be viewed here.
Players not already registered in your team on Play-HQ will need to do so prior to playing. BV is extending all active licences for the duration of the period that basketball is unable to be played due to the COVID-19 pandemic.

TEAM CREDIT FROM TERM 1
Any Credits from unplayed games from Term 1 2020 will be applied to the next Team Invoice for all teams. Note: Credits are applied to returning teams and are not refundable as cash.

COVID SAFETY PROCOLS
Many protocols will be in place when Basketball returns for the safety of everyone. Refer to Basketball Victoria's Return to Sport document. Additional information for parents is under the Covid-19 tab and via the News tab on the Playball website.

NEW TRAINING TEAMS: TERM 1 2021
Playball's main intake of new Training Teams is in Term 1 of each year with up to 80 new teams training across the three main stadiums. Most children commence basketball in Year 1. Teams of up to 10 children participate in weekly training sessions at MSAC, Albert Park on Fridays, Aqualink Box Hill on Fridays & GESAC Bentleigh East on Wednesdays. Playball's experienced Basketball Coaches conduct the 40-minute sessions. Training balls are supplied unless covid-19 rules require no sharing, then will be available at cost. All other equipment is provided. New Training Teams commence competition against other ex-training teams in Term 2. Teams play in a Boys league or Girls league. Playball runs a Coaches Workshop early Term 2 for all would-be-Coaches. Download a TEAM REGISTRATION FORM for TRAINING in Term 1 2021 and start getting your training team organised. Completed Form requested by Tuesday 15 December 2020. An alternative to MSAC Friday training is WEDNESDAY TRAINING at GESAC in Bentleigh East.

COACHING & SKILLS VIDEOS
Updated Coaching and Individual skill videos are available that parents & coaches can practice at home or as training team session. Excellently produced and great fun whilst gaining skills.
24/08/2020 Playball Team Experiences page
A new Tab has been added with parent experiences over the years with Playball Basketball.
30/07/2020 Update - Planned re-start for Term 4 2020
Basketball Update
Lifting of Stage 4 Restrictions is currently scheduled for Thursday 17 September. Playball will prepare for a commencement of basketball from Term 4, Tuesday 6 October subject to State Government and Basketball Victoria go ahead.
Strong consideration will be given to running a Summer Schedule with the Playball Season running over Term 4-2020 & Term 1-2021. Term 4 Team-Gradings will be kept as they are currently allocated. Basketball Victoria has extended all active Play-HQ licences for the duration of lock out.
If Term 4 2020 is not able to proceed, Playball will plan to recommence from February 2021 for a Term 1/2 Season.
Games at MSAC & Attendance Recording
At all stadiums except MSAC, Covid-Comply QR-Code scanning using a mobile-phone camera will be used to register attendee contact details for contact tracing.
MSAC use their own registering process where all attendees are required to provide their name on arrival. Playball is working with MSAC to streamline this, so Player name, Coach and Parent contact details are provided by Playball to MSAC in advance of the scheduled match with details sourced from the Playball Database. Thereby Players and Coach can go straight to their court at their allocated time. Only additional Adults need to register on arrival.
Your Team Manager Anna OBrien, will update the Player Details via the playball web-portal to include Parent Mobile-Phone and Home Post-Code. (post code is required by MSAC in case of an area specific lock down)
Safety procols and communication
Many protocols will be in place when Basketball returns for the safety of everyone. Refer to Basketball Victoria's Return to Sport document.
Bullet points of Protocols will be emailed to all registered parents. Additional information for parents is under the Covid-19 tab on the Playball website.
UPDATED COACHING & SKILLS VIDEOS
Updated Coaching and Individual skill videos are available that parents & coaches can practice with your kids at home or as a training group session. Excellently produced and great fun whilst gaining skills.
05/06/2020 Return to Sport Reactivation levels
GENERAL COMPETITION

ORANGE-20

ORANGE-50

GREEN-100

Indoor Competitions

Max 7 players per team

Max 10 players per team

As per competition rules

Outdoor Competitions

Max 7 players per team

Max 10 players per team

As per competition rules

Basketballs in stadiums

Max 2 per team

Max 2 per team

Unrestricted

Break between games

Min 20 minutes

Min 20 minutes

Unrestricted

Coaches / Team Manager

Max 1 per team

Max 3 per team

Unrestricted

Court / Referee Supervisors/ BSO

Max 1 per 4 courts

Max 1 per 2 courts

Unrestricted

Participant Arrival Time

Max 10-minute prior

Max 20-minute prior

Unrestricted

Participant Departure Time

Straight after game

Straight after game

Unrestricted

Referees

Max 2 per game

Max 2 per game

Unrestricted

Score Table / Stats Officials

1 per team

1 per team

Unrestricted

Shaking of hands / High Fives

Banned

Banned

Allowed

Spectators / Parents / Guardians

No spectators / parents / guardians

Domestic: 1 per player. Attendees must adhere to social distancing rules.

Spectators permitted up to 100 people per court. Social Distancing Rules must be adhered to.

Total Participants
(ex-court Super)

20

50

100
28/04/2020 Safety & Health at Stadiums
Playball is developing safety protocols when attending stadiums. There will be some changes to enable effective social distancing for parents; including time increased between matches and different entry & exit points. Specific arrangements will be advised in advance.
28/04/2020 Term 3 & 4 2020 Dates
Playball anticipates at this point, all competitions recommencing at the start of Term 3 2020.
MSAC/Bayside Tuesdays Term 3: 14 July to 8 Sept. Term 4: 6 October to 24 November
MSAC/Bayside Fridays Term 3: 17 July to 11 Sept. Term 4: 9 October to 27 November
Whitehorse Fridays Term 3: 17 July to 11 Sept. Term 4: 9 October to 27 November
GESAC Wednesdays Term 3: 15 July to 9 Sept. Term 4: 7 October to 25 November
28/04/2020 Play HQ – Player Insurance through Basketball Victoria
As of Term 3, All Players must be registered as a Player and for Insurance Cover via the Basketball Victoria created web-portal: Play-HQ. Registration and payment cover players for 1 year and is $25.00 for juniors. A Playball Player Season fee is $10.00 payable at the same time.
Firstly, Team Managers will be emailed by Playball, a link to Play-HQ to register their Team for Term 3/4 2020 Season. For existing Playball Teams, there is a $10.00 charge at the time of Team Registration. (From October, the New-Team-Fee is $40.00) Once registered, the Team Manager receives an email from Play-HQ with a link to forward to Team Members so parents can register their child to the team.
Team Managers will continue to be Invoiced on behalf of Teams for Term-Team-Fees as is current practice. This allows for deduction to be made for scheduled BYES or Forfeits.
28/04/2020 Term 3 & 4 2020 Team Playing Cost
| | | | | |
| --- | --- | --- | --- | --- |
| Competition Name | Term 3 | Weeks | Term 4 | Weeks |
| MSAC / Bayside Friday Years: 1 to 4 | $880.00 | 9 | $780.00 | 8 |
| MSAC / Bayside Tuesday Years: 5 to 6 | $880.00 | 9 | $690.00 | 7 |
| Whitehorse Friday Years: 2 to 4 | $860.00 | 9 | $760.00 | 8 |
| Whitehorse Begineer Competition: Year 1 | $860.00 | 9 | $760.00 | 8 |
| GESAC Wednesday Years: 1 to 2 | $860.00 | 9 | $760.00 | 8 |